This year's Shriners Hospitals for Children Open was held without fans due to the ongoing effects of the coronavirus. Many of the top PGA TOUR players came to Las Vegas to compete for FedEx Cup points. This year ended in a three-man playoff with Martin Laird taking home the Howard Hughes Trophy. He defeated Austin Cook and Matthew Wolff with a 23-footer for birdie on the second playoff hole to win.
Laird, who won the Shriners Open in 2009 entered the tournament on a sponsor's exemption. He started at 358 in the world before winning the Shriners Open. The last time he was a PGA TOUR winner was seven years ago.
"This might be the best one, because it's been awhile," Laird said after his fourth career victory "I'm going to really enjoy this one."
With this win under his belt, Laird is now able to participate in the Masters and PGA Championship. He moved up to fourth in the FedEx Cup standings and, also earned 500 FedEx Cup points. The overall purse was $7 million with the Laird earning $1.26 million. Laird is currently seventh in the FedEx Cup rankings.
A message from our patient ambassadors to Martin Laird
👏C-O-N-G-R-A-T-S!

Message from our @shrinershosp
patient ambassadors to the 38th Shriners Open champion Martin Laird!#SHCO20 🏌️ pic.twitter.com/PVYY1UVW1t

— shrinersopen (@ShrinersOpen) October 12, 2020
Final Leader Board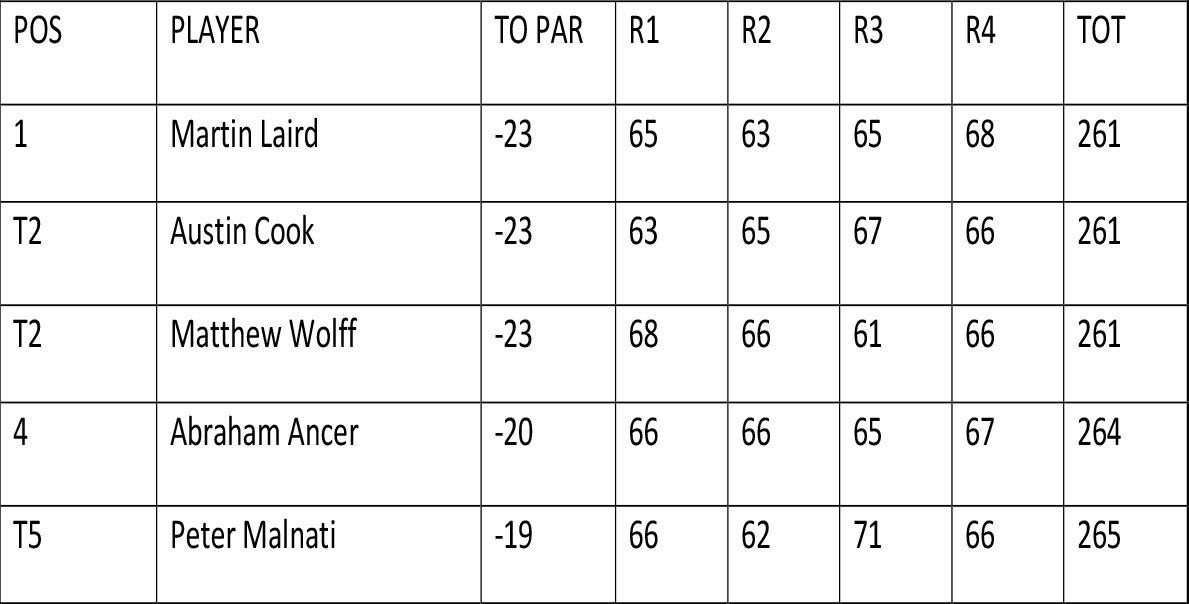 Although our standard bearers and patient ambassadors weren't in attendance this year we were still able to connect them to the PGA TOUR players, so they could interact and share their stories virtually.
Shriners Hospitals for Children — Galveston patient Katherine custom designed Bryson DeChambeau Puma Golf shoes that he wore all week.

Harold Varner III sat down to learn about our National Patient Ambassador Mia and her talent for singing.
Mia, you're a hell of a lot stronger and tougher than me. You're forever a friend of mine! Can't wait to fly to St. Louis for our next duet in person. #WeHere pic.twitter.com/e1lkGXKRKm

— Harold Varner III (@HV3_Golf) October 8, 2020
Maverick McNealy and Under Armour made sure our standard-bearers could watch our tournament in style!
National Patient Ambassador Connor has raised over $200,000 for Shriners Hospitals for Children by playing a large part in a golf tournament fundraiser.
Volunteer Spotlight: